Win a Dermatonics Subscription for a Year!
Enter your email below to join this giveaway.
Winners announced via email on 4/5/2021
This Lucky Person Could Be
You

!

The first 3 prizes are a year subscription to Dermatonics
All Prizes Include Exclusive Perks!
Q&As with Doctors
Dermatonics is used by some of the best podiatrists and dermatologists in the country. We host a monthly Q&A session where you can ask questions you've always wanted answers to.
Referral Rewards
Refer friends to Dermatonics and get your next shipment for free. The more friends you refer, the more months of free Dermatonics shipments you get.
Want to win a free Manuka Honey Heel Balm? Right now, we're giving away our signature Dermatonics product to five lucky winners.
Our Manuka Honey Heel Balm is clinically proven to visibly soften feet in as little as one day. Dermatonics is the fastest way to soften feet and is guaranteed to work or we will refund your purchase.
This is your chance to try it for free!
Enter your email on this page to instantly enter to win a free Manuka Honey Heel Balm.
Want more chances to win? Follow the steps below:
Follow Dermatonics on Instagram and post a comment on one of the photos on our Instagram page and share what it is you like about Dermatonics. You can leave your comment on any of our photos. Make sure to use the hashtag: #HEELYES.
On Monday, April 5th, we will choose 5 winners from the comments section of our Instagram photos. Make sure to use the hashtag as that is how we will know you are entered in the contest.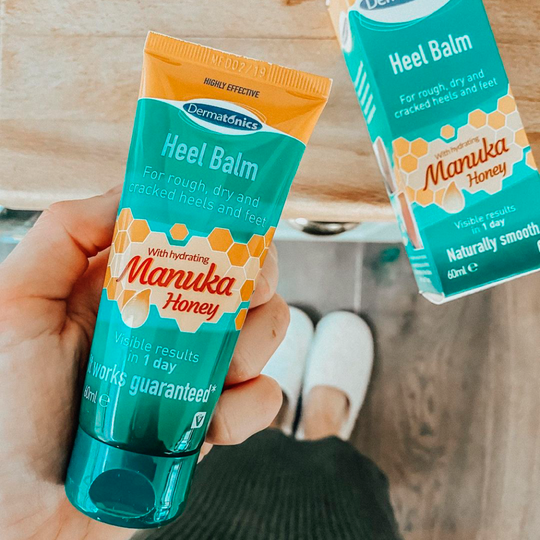 Enter Your Email Below to Enter this Giveaway
Good luck from all of us at Dermatonics!
NOTE: As always, this giveaway is open to everyone! No need to purchase or like our Facebook or Instagram page or subscribe to our YouTube channel. Also, this giveaway is not supported or endorsed by Facebook or Instagram.
© Copyright 2021 Dermatonics USA. All right reserved.